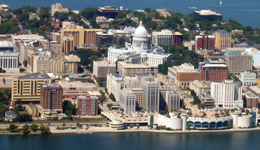 Our Story
We design comfortable, functional spaces for people to work, heal and learn. We create ideas and solutions that allow employees to work the way they want. We've been helping people define and redefine their space for over 25 years.
For nearly 25 years, the studio was located on University Avenue in Middleton. In December 2010, Techline Workspace Studio moved to 8516 Fairway Place, Middleton in the heart of the Middleton Business Park. The new building was completely renovated with a new showroom and expanded warehouse area.
Harness your environment. Be more organized. Increase productivity. Think more creatively. Choose Techline Workspace Studio.
Our Team
We are experts at fitting people and things into space. We create spaces that adapt, shift and grow with you, your employees and your business.
Our designers assess your needs, listen to your ideas and blend those together to create a unique space, just for you. From small offices to large commercial projects, our designers will manage your project every step of the way. Using the latest computer technology and their extensive training, our design staff provides work space solutions to fit your schedule and your budget.
Our professional, in-house installers turn the plan into a reality. With over 40 years of combined carpentry experience, our team has the skill and knowledge it takes to make each project a success. Our installers' attention to detail, accuracy and efficiency set us apart and keep our customers coming back.
Our Showroom
Our showroom is located at:
8516 Fairway Place
Middleton, WI 53562
MAP
P: (608) 833-6868
F: (608) 833-6862
Hours
Monday – Friday 8:30- 5:00 pm
Or By Appointment